Also this year the AC Milan Junior Camp Day is going to officially open the 2019 season of AC Milan Junior Camps organised in Italy and in many other countries around the world.
On Saturday April 13 some of the youngsters who participated in the 2018 season of the summer camps will meet at Vismara Sports Center to live a full day of sports, leisure and sharing dedicated to the great passion for the red and black colours.
The participants in the nineteenth edition of the AC Milan Junior Camp Day come from different countries: from Italy to Canada, from Switzerland to Spain, from France to Bulgaria, marking the event with an international flavour and representing the broader red and black fanbase.
The one-day event is characterised by a friendly tournament that will take place in the headquarters of the Rossoneri's Youth Sector and will involve young players and footballers born in 2008 and 2009. One of the most important moments will be the opening ceremony, during which some of the participants will take the oath of fair play in different languages as fair play is the fundamental value of the Milan Junior Camp Day.
The initiative has also educational connotations in line with the objectives of AC Milan Academy: multicultural integration and personal growth through sports. 40 coaches, who are part of the AC Milan Junior Camp technical staff, will coordinate the young players at Vismara.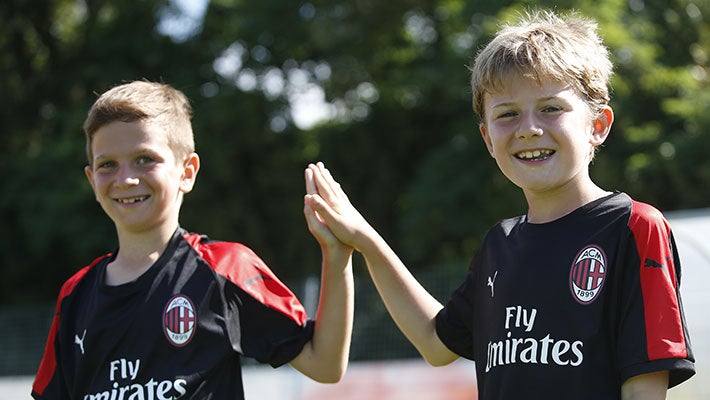 The MJC Day will be an extraordinary experience for the kids: in addition to participating in the friendly tournament, they will come to Casa Milan to live the glorious history of the Rossoneri sightseeing the Mondo Milan Museum and visiting the Store.
In addition, on Saturday evening, all the participants will be at San Siro to support the team in the championship match against SSC Lazio and during half-time they are going to parade along the sidelines to greet fans.
In 2018, also thanks to Banco BPM that has been supporting AC Milan Academy's activities on the territory for six sporting seasons, about 6 thousand kids attended AC Milan Junior Camps, the Club's official summer holidays, organized, in over 80 selected locations in Italy and abroad, by the sea or in the mountains, for a total of over 100 weeks of recreational sports activities. An experience open to everyone that allows girls and boys to have fun, improve their skills and meet new friend being close to nature. A healthy and educational holiday, in the name of sports, football and Rossoneri colors.
For info and enrollment:
www.acmilan.com
0262284545 (call center)