AC Milan's Primavera side continued their superb run of form, beating Parma away on matchday 17 in the league thanks to goals from Olzer, Frigerio and star of the show Tonin. A vital victory which was never in doubt, as the Rossoneri looked dangerous up top, solid in defence and organised in midfield for the full 90 minutes. This was the Rossoneri's 13th consecutive win, consolidating their spot at the top of the table ahead of next week's big home clash with SPAL, where AC Milan will have the chance to be crowned champions of the division with games to spare. An opportunity that Coach Giunti and his boys certainly won't want to pass up on.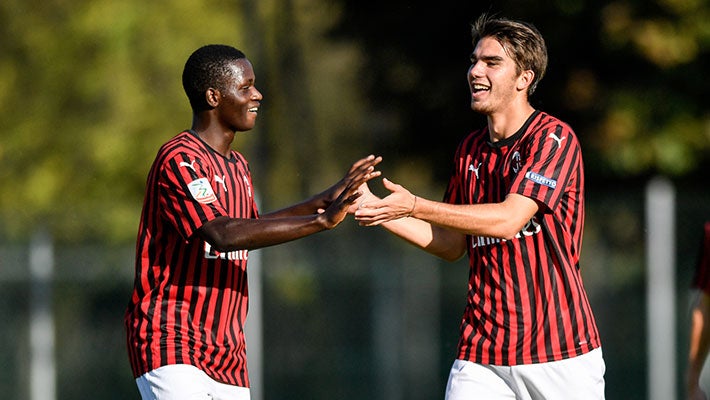 MATCH REPORT
The match burst into life right from the off, the Rossoneri taking the lead after just 15 minutes when Tonin was brought down in the box, Olzer stepping up with a panenka from the spot to make it 1-0. Mionić then came close to a second but Rinaldi did well to keep him out. Giunti's boys however refused to let up, and more chances continued to flow with Tonin, substitute Colombo and Frigerio all nearly scoring Milan's second. But Parma couldn't hold on forever, and it was a period of just three minutes that saw the Rossoneri run away with the game. First Frigerio netted from Tonin's assist, then our no.11 converted Olzer's cross moments later to make it 3-0. Colombo and Capone had chances in the closing minutes, but no more action was to come and Milan travelled home with the points.
PARMA 0-3 AC MILAN
PARMA (4-3-3): Rinaldi; Radu, Cipolletti, Balogh, Di Maggio (28' Casarini); Kosznovszky, Palmucci (63' D'Aloia), Ankrah; Kasa (77' Petronelli), Trezza, Goglino (63' Napoletano). Subs.: Turk, Nucci, Miceli, Kone, Schifano. Coach: Veronese.
AC MILAN (4-3-1-2): Soncin; Stanga, Merletti, Michelis, Oddi; Frigerio, Torrasi (85' Robotti), Mionić; Olzer (71' Capone); Pecorino (52' Colombo), Tonin (40'st Haidara). Subs.: Moleri, Angeli, Bosisio, Capanni, Paloschi. Coach: Giunti.
Referee: Di Marco from Ciampino.
Goals: 15' pen. Olzer (M), 64' Frigerio (M), 67' Tonin (M).
Bookings: 90+2' Cipolletti (P), 90+2' Oddi (M).

The official PUMA match kits for the 2019/20 season are available in the AC Milan Online Store!