MATCH REPORT
It was a largely uneventful first half; the Portuguese side were well organised, closed down the space and made life very difficult for the Rossoneri. AC Milan, with Maldini the surprise inclusion in the starting eleven, tried to break the deadlock from outside the box. Theo's freekick (12') and Hakan's effort (16') were both off target. The Rossoneri did find some joy down the left wing, with Hernández and Saelemaekers getting up and down very well, but were unable to create any meaningful opposition. AC Milan made their first change after half time; Castillejo off, Brahim Díaz on. And it was our number 21, who created the first chance of the second half, winning a corner after a quick one-two with Saelemaekers. The corner was taken, the ball was cleared and arrived at Alexis' feet, he lined up the shot and fired low and into the back of the net, putting the Rossoneri a goal to the good (49'). Being 1-0 up certainly helped unleash AC Milan's attacking fluidity. A chance for Theo in the 52nd minute but he lacked that final touch. Then, Calabria's cross was just a touch too long from Daniel Maldini (54'). In the 57th minute, it was Rio Ave's turn to threaten as Tarantini's header flashed just wide.
Çalhanoğlu's freekick was deflected not far past the post in the 70th minute, In the 72nd minute though, the surprise Rio Ave equaliser came. Piazon found Geraldes in the area, he unleashed a powerful left-footed strike leaving Gigio with no chance. We once again looked dangerous in the 84th minute as Çalhanoğlu had his effort deflected wide. Tension then in added time as Santos' shot was not far away. It went to extra time and Gelson put the hosts ahead after just 20 seconds. Kieszek saved Bennacer's effort (105'), which was the Rossoneri's only moment of note in the first half of extra time. The Rossoneri pushed hard in the final fifteen minutes and Theo looked dangerous on two occasions: his shot-cum-cross was sent behind for a corner and a powerful left-footed drive was saved by Kieszek. On the stroke of full time Borevković handled the ball and gifted Çalhanoğlu the equaliser from the penalty spot. 2-2 and it was on to penalties. The shoot-out was unending. Three times Rio Ave had a chance to put it to bed, three times they squandered that chance. Donnarumma saved Santos' effort and AC Milan are in the Europa League group stage.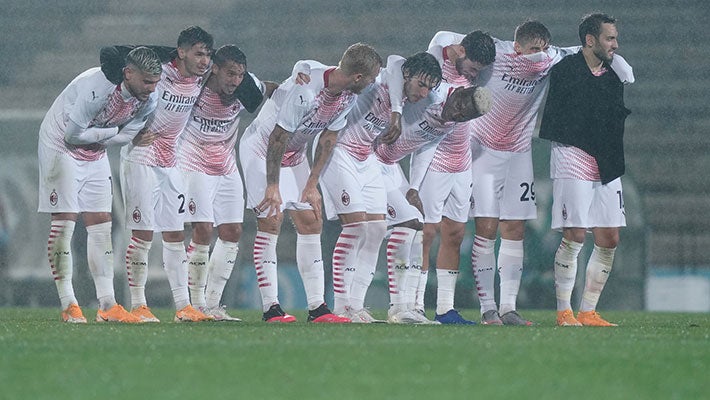 MATCH DETAILS
RIO AVE 10-11 MILAN (penalties)
Rio Ave (4-2-3-1): Kieszek; Pinto, Borevković, Santos, Monte; Filipe Augusto, Tarantini (75' Jambor); Piazon, Lopes (67' Geraldes), Mané (109' Gabrielzinho); Moreira (87' Gelson). Subs.: Vieira; Amaral, Pereira. Coach: Mario Silva.
AC Milan (4-2-3-1): Donnarumma G.; Calabria, Kjær, Gabbia, Hernández; Bennacer, Kessie (106' Tonali); Castillejo (46' Díaz), Çalhanoğlu, Saelemaekers (95' Colombo); Maldini (67' Leão). Subs: Tătărușanu; Laxalt; Krunić. Coach. Pioli.
Referee: Jesús Gil Manzano (Spain).
Goals: 49' Saelemaekers (M), 73' Geraldes (R), 91' Gelson (R), 121' Çalhanoğlu (M).
Booked: 15' Borevković (R), 41' Moreira (R), 47' Santos (R), 61' Hernández (M), 64' Filipe Augusto (R), 68' Tarantini (R), 98' Leão (M), 113' Kjær (M).
Sent off: 121' Borevković (R).
Penalties: Bennacer (M) goal, Geraldes (R) goal, Kjær (M) goal, Santos (R) goal, Hernández (M) goal, Jambor (R) goal, Díaz (M) goal, Piazon (R) goal, Çalhanoğlu (M) goal, Filipe Augusto (R) goal, Calabria (M) goal, Gelson (R) goal, Tonali (M) goal, Gabrielzinho (R) goal, Colombo (M) miss, Monte (R) post, Leão (M) goal, Pinto (R) goal, Donnarumma (M) miss, Kieszek (R) miss, Bennacer (M) saved, Geraldes (R) post, Kjær (M) goal, Santos (R) saved.
Our new Kits for the 2020/21 season are now available: visit our AC Milan Online Store!