On 28 May AC Milan have won trophies in some of the world's greatest theatres; legendary stadiums like the Santiago Bernabéu in Madrid and Old Trafford in Manchester. Two arenas that need no introduction.
1969 and 2003, two historic triumphs: the first wearing the iconic red and black shirt against Johan Cruyff's Ajax, the second wearing white against Gigi Buffon's Juventus. The former was won with El Paròn Rocco leading the team, while the latter saw Carlo Ancelotti in AC Milan's technical area, and both men always centred their great sporting successes around humanity and wisdom. The Santiago Bernabéu and Old Trafford have remained 'friends' with AC Milan over time.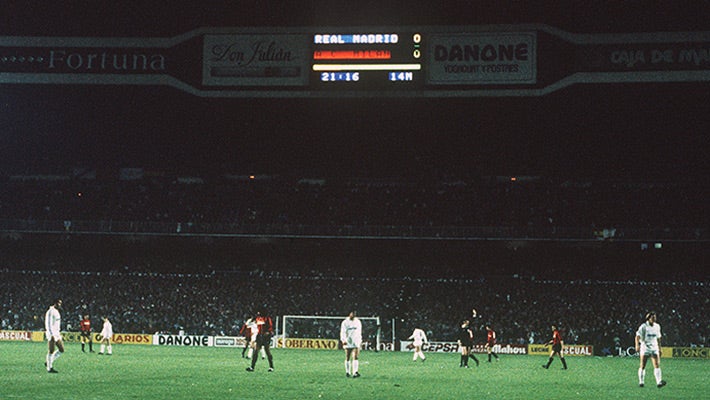 The Rossoneri once again came to Madrid in 1989 and stunned Los Blancos, not only via Marco van Basten's headed goal, but above all through their authoritative performance of pressing and counter pressing. That match unravelled their opponents who were then finished off at San Siro in the second leg, sending the Rossoneri to the Final in Barcelona. Another crucial victory in Madrid came in October 2009 when Pato's brace and Pirlo's goal sealed a 3-2 win over Kaká and his teammates.
AC Milan have achieved the same productivity in Manchester: one victory and a great semi-final first leg performance. The victory came in February 2005 thanks to Crespo's decisive goal in the dying minutes. While in 2007, Kaká's first-leg brace laid great foundations to progress to the Final in Athens despite losing 3-2, because the Rossoneri unleashed the perfect performance in the return fixture at San Siro to knock CR7, Rooney and co. out of the competition.
We can all contribute by participating in Fondazione Milan's fundraiser to support the distribution of foodstuffs promoted by the Municipality of Milan for those families in need as per the Milanese metropolis.