It was normal for AC Milan to give away champagne at Christmas - crates from the Milan-supporting sponsor Franciacorta. In December 2006, a luxurious gift made its way to Versilia. A few months earlier, Marcello Lippi had won the World Cup and it was right for one of Italy's biggest clubs to congratulate him with a gift over the festive period. The delivery was handled very carefully and discreetly.
Such care was taken that it was almost suspicious. There was no mention of the news on the Club's website. There was a reason for that. In the context of AC Milan over the 2006-7 Christmas break, two aspects had to be kept in mind. Should the side not manage to escape from the crisis of results that was linked to many factors which had begun in October and run through to December, a big name was available to come in. The winner of the Wo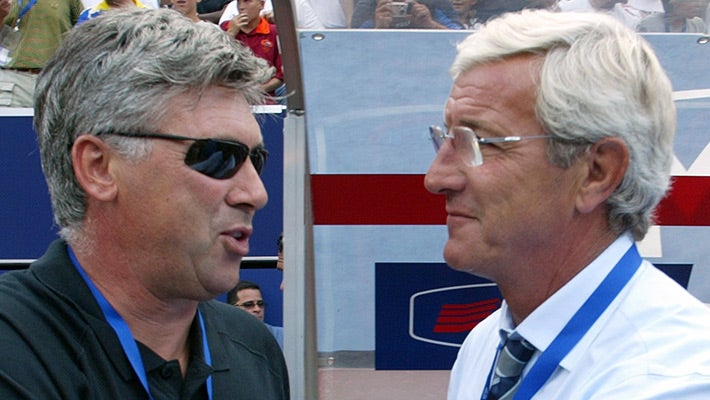 If the team had taken on that subliminal message with the gift of those bottles and Carlo Ancelotti was truly in their hearts, they knew what they had to do to keep him at Milanello. From that, you can start to see how things turned around with the quarter-final between Bayern Munich and AC Milan. The first leg had finished 2-2 and the Rossoneri were on the verge of going out. In Munich, on German soil where Lippi's greatest moment had come in Berlin.
But, at the Allianz Arena, Milan won. The goals coming from two of Carlo Ancelotti's 'Praetorians': Seedorf and Inzaghi. The first to go and celebrate with the Coach was Sandro Nesta who went over to the dug-out following the final whistle. From that moment on, the Coach and team were together as one.
The side then came up against the Manchester United side in the semi-final who had beaten Roma 7-1 and the Giallorossi were ahead of Milan in the table in the first season following Calciopoli. The path was clear and Ancelotti knew which way to go. On the day off the second leg of the semi-final, the Coach called the team for an early meeting on a rainy morning in Milanello.
Guys, the captain's knee means he won't make it. We have to promise him that we'll take him to Athens for the last final of his career. From then on, we seemed able to see flames behind the eyes of the players despite the May humidity. The match against Manchester United proved to be the perfect game, ending in a 3-0 win for the Rossoneri.
By Mauro Suma