The sparkling sky of history has united both AC Milan and Barcelona. Zvonimir Boban, AC Milan's CFO, welcomed the delegation from Barcelona under the spires of the Duomo in Milan. The Spanish group was led by Pau Vilanova, president of FC Barcelona's social activities committee, with Miguel Angel Nadal and Albert Ferrer also present, both legends from Blaugrana history. Demetrio Albertini directed the international tour, which, until 16 December 2020, will see Barcelona and Milan celebrate 120 years since their founding dates. Both born in 1899, the two clubs have promoted an international tour of games between the legends of both sides. After an introductory film and words from Albertini, Boban and Vilanova stepped up to talk about the values of both clubs.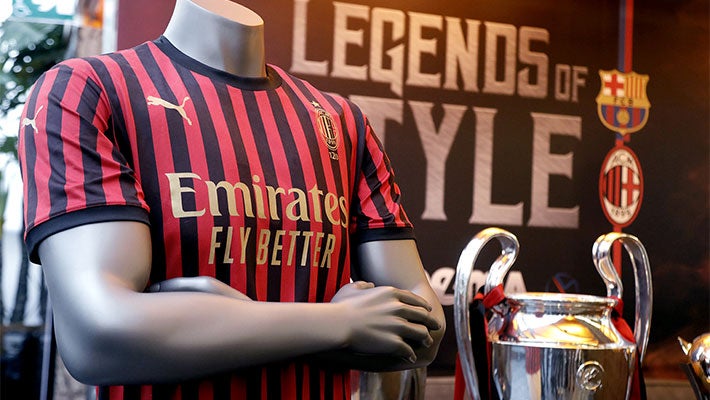 Rossoneri legends were sat in the very front row for the event. Franco Baresi, the heart and soul of the AC Milan legends since the friendly in Florence for Stefano Borgonovo in 2008, confirmed the prestige of the event and the honour of being involved. By his side sat Mauro Tassotti, Daniele Massaro, Stefano Eranio, Gianluca Zambrotta, Luca Antonini, Francesco Coco and Cristian Zaccardo. It then fell back to Vilanova and Boban to exchange the clubs' official books for 2019 published by Skira: "Sempre Milan" for the Rossoneri, "120 Years Mes que un Club" for the Blaugrana. The photo of the Milan and Barcelona legends was framed by a background of the wonderful Duomo in Milan, with Nadal and Ferrer also in the photo, two veterans who have just returned from a friendly for the Barça Legends side played in Sao Paulo, Brazil.
Remember that tickets are on sale for the home games against Sampdoria, Udinese and Hellas Verona. Buy yours now and save with our mini season tickets! See you at San Siro!