Football isn't just about glitter and glamour, victories and titles, glory and honours. There are also tough moments when you go through difficulty. After picking up the star that represented ten league titles, AC Milan went into a slide. You couldn't see the light at the end of the tunnel as a new problem would pop up just as the previous one was solved. With Chairman Giuseppe Farina, Milan experienced some significant moments and challenges. They don't need to be listed but the should be kept in mind when looking back at the stars on the pitch from those days had to say and what happened behind the scenes.
First of all, there was Ilario Castagner who was sacked in March 1984 after Milan drew in Florence and he was accused of being a traitor who had already reached an agreement with Inter. Ilario still doesn't want to be referred to in those terms. It's true that Silvano Ramaccioni who had been with him as they moved from Perugia to Milan refused to make the switch to the Nerazzurri himself. But the fervour with which Castagner discusses those days is in his favour. The Coach from Vittorio Veneto wanted to stay at Milan after building a decent team in his first season and he wanted to improve it further, especially because the chances were there to do so. He had seen a 22-year-old Lothar Matthäus play, he could have been purchased from Gladbach in the winter of 1983-84, but after repeated attempts to convince the Chairman to make a bid, he realised nothing would come of it, he even tried to convince Vice-President Rivera but again to no avail.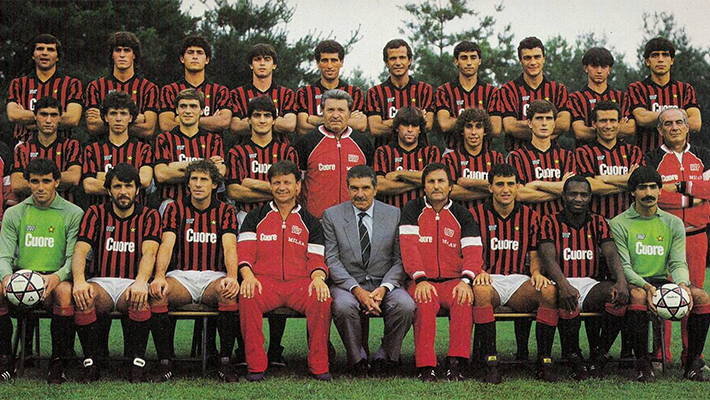 Nothing happened and for Castagner, it was another one of the strange things from that era. For him, it was one of the episodes which proved that there was no project in place. They were years in which the Club struggled to proceed assurances, especially on a personal level. At the start of the summer of 1985, Vinicio Verza had to renew his contract and he begged Farina to let him stay at Milan. He came to say that he'd sign without looking at the terms, he signed the box and left it to the Chairman to fill in the details.
Again, in this case, it was a gesture which showed great attachment and commitment but Farina from Vicenza allowed Verza to move to historic rivals Verona. And Giancarlo Pasinato? He was very happy at the club and a fan favourite. He wanted to stay at Milan and he repeatedly tried to convince the Chairman and Coach to keep him in the Spring of 1983.
But the Club instead sent all three back to Inter as they became figures that represented the misgivings people had about the management of the time. A sense of disappointment was often expressed by Ottorino Piotti, the goalkeeper who imitated Fonzie at Avellino and who was well-liked by the Milan supporters. At a certain point in the 1982-83 season, he disappeared from the goal. In his place, Giulio Nuciari came in. Piotti still privately says today that the decision was made for financial reasons and issues to do with his contract and it was not a technical decision.
by Mauro Suma