Inzaghi didn't want Ibra. But then, years later, he fell for him, was moved by him and cried for him. Football never stays the same, it's not permanent. Football changes and adapts and its greatest players can do that above all. It's August 2006 and SuperPippo had just started on the road that culminates with his masterpiece in b. His country had called and he responded. After Calciopoli, he had to hurry back because AC Milan were no longer qualifying directly for the Champions League.
The side had to go through the preliminary round. The 30-point deduction meant Milan dropped into third for the 2005-6 season which wasn't one of the original sanctions as Lazio also eventually avoided relegation. The players were set to meet a Red Star Belgrade side that had already been training and that was in shape. Less than 24 hours after receiving the call from the Club's offices on via Turati, Inzaghi was back at Milanello. A few days later on 9 August which was his 33rd birthday, he was on the pitch in front of 70,000 fans at San Siro. The Rossoneri won 1-0, Inzaghi with the goal. After the match against the Serbian side, there were reports that Milan were finalising a deal to sign Ibrahimovic. In the mixed zone at the stadium, the press talked to Pippo about it. He just smiled and shrugged. As soon as he got out though, Inzaghi was on the phone to call his friends and ask his friends "is this story true?"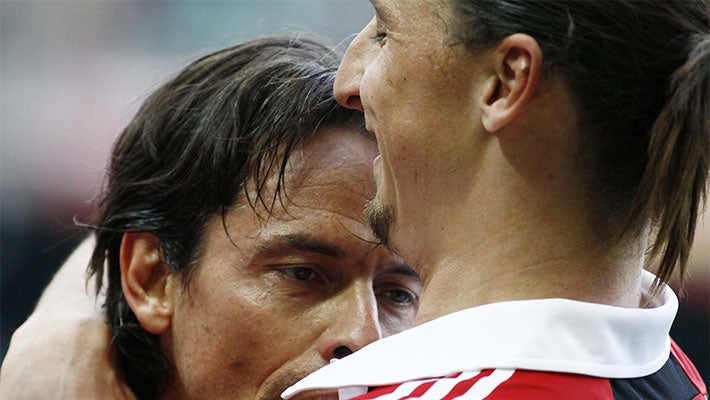 When speaking, Inzaghi had a characteristic where he would make two noises when talking about something he wasn't sure about, almost guttural bellows rather than a subtle tic. He still wanted to be the main man. That was Inzaghi's self—confidence and his belief in himself made him feel more important than a star such as Zlatan. By February 2007, that self-confidence from a few months earlier had declined as injuries and tactical decision meant that Inzaghi played less and struggled.
His agent Tullio Tinti went to speak with. We spoke with him and he said: "Don't worry about Pippo before the end of this season, he'll come up with something." Two months later, he scored against Bayern in Munich in the quarter-finals and three months later he bagged a brace in the Athens final. He got his hands on that trophy that Ibrahimovic never managed to win. Inzaghi had stepped up for the final two months and Pippo was right. On the subject of Ibra however, he would change his mind. Then years after, Zlatan was at Milanello and Inzaghi dealt with it. Like with Kaká, he became a friend of Ibra's.
The forward from Piacenza looked to get close to Zlatan and motivate him, help make him feel good. Ibra greatly appreciated Pippo's obsession with football, enjoying it much more than Ronaldinho's laidback attitude. When Inzaghi scored two Champions League goals against Mourinho's Real Madrid side at San Siro, Ibra was the first to run and celebrate with him. A few days after, destiny would strike. In November 2010, Milan beat Palermo 3-1 but Inzaghi injured the cruciate ligament in his knee. As soon as he could after the operation, Pippo turned up at Milanello on crutches.
Three years earlier, Tinti was waiting for him but this time, it was Ibra. Zlatan hugged him and said. "What a shame Pippo, I wanted to play in lots of great games alongside you." After that, Inzaghi started to cry like a child for a few minutes. Ibra had moved him. After that match against Red Star, he was sure he didn't want him there but football is like that and things change.
by Mauro Suma