"Not everybody knows that here at Milan, the only person who has a rapport with president Berlusconi is Sheva, and it's a positive and constant one." Adriano Galliani said this describing a time where Silvio Berlusconi personally paid for the doctors and hospital care for the Shevchenko's father who was undergoing a heart transplant. The relationship runs even deeper; Silvio Berlusconi was also the godfather to Jordan, Andriy's eldest son. The Black Sea Phenomenon still has strong ties to AC Milan. But the moments that make up his great adventure are very different from each other and have often been intertwined with events relating to other great clubs and other great presidents.
2001 was the year in which the number nine's mettle was tested, and it was tested on two occasions. The first of which came in April when Real Madrid president Florentino Perez arrived in Milan to deliver the Champions League trophy ahead of the final between Bayern Munich and Valencia, which was to be played at San Siro. During that visit, Perez offered a figure close to 200 billion old Italian Lira for Andriy. The Rossoneri management gave President Berlusconi the final decision; he thanked Perez but declined the offer. So Sheva stayed.
The fact of the matter was that the Rossoneri finished sixth in the league at the end of the 2000/01 season, and while the general feeling around Milan was that Sheva would spend the rest of his career with the Rossoneri and become a great, Andriy asked the Rossoneri hierarchy for proof of a desire to build a project, which he wanted to see before signing any contract extension. The issue remained unresolved until early July 2001, but everything seemed to be on track. But when the management at via Turati submitted their plans to purchase Manuel Rui Costa, the belief at Milan was that a lack of effort to sign the Portuguese could see Andriy leave the Rossoneri. That's why one evening Adriano Galliani, who was dining at a famous and prestigious Milanese fish restaurant at the time, opened his phone and leapt to his feet shouting, "We've done it! Rui's on his way and Sheva's also staying!"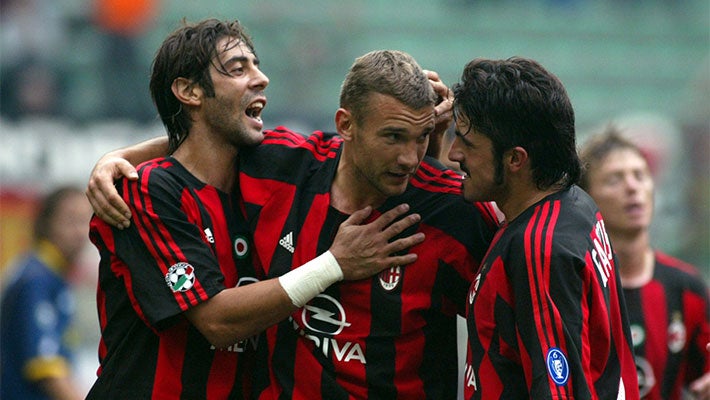 Truth be told, Andriy did suffer from Real Madrid's allure in the following few years. After a 3-2 home defeat against Udinese and with the top four and Champions League qualification looking uncertain, the Rossoneri management began to imagine that the group might be more cohesive without Sheva. Carlo Ancelotti and Andriy still had a cordial relationship, but the Ukrainian National Team coach was concerned by the state of affairs. During a four-team tournament held at the Bernabeu in August 2002, Sheva acknowledged the applause he was receiving from the Madrid fans. The situation remained a tense one until the semi-final and final of the 2003 Champions League.
His career may have suffered a bit from Pippo Inzaghi's competitive spirit and personality in the past few months, but Andriy's career came on in leaps and bounds during April and May 2003. Sheva scored the decisive penalty in the first, and so for only, all-Italian Champions League final and a few months later he found out he was about to become a father. He celebrated the birth of his son Jordan Shevchenko on 29 October 2004 with delight and the next day he scored the winning goal as Milan beat Sampdoria 1-0 away from home in the league. Meanwhile, Roman Abramovich had begun to try to tempt the Rossoneri goalscorer away from Milan. During the summer of 2004, after Milan had won their 17th Scudetto, the message coming from via Turati was: "Silvio Berlusconi's Milan don't fear attacks and they will keep Sheva."
A summer of agitation enveloped in Milan in 2005. The fallout from Istanbul was a source of this tension, and the situation wasn't helped by Shevchenko sustaining a jaw injury during a match against Cagliari at San Siro. In May 2006, Andriy did not go to dinner with the rest of his teammates after they had beaten Parma away 3-2; instead, he went to Milanello to talk to president Berlusconi: "President, I've decided to leave." Adriano Galliani went to Shevchenko a contract and told him, "Just give me a number". A tearful Sheva stayed firm on his decision to move to London and to Roman's Chelsea. During his first competitive match, a 2-1 Community Shield defeat against Liverpool, he scored and kissed the badge.
Gattuso and his teammates witnessed the scenes in La Coruña in August 2006, and maybe that was the spark that empowered them to find redemption in Athens. For Sheva, it's been a rollercoaster to put it simply. But at the end of the day, when he looks back on his career, it will be Milan and Milan alone that has a place in his heart. The road may have been a long and winding one, but it always led back to the Rossoneri.
by Mauro Suma