2020 begins for the Rossoneri. None of our sides have played any competitive matches over the Christmas break, but they've been working hard in training and they're all ready for a new and important year. The year ahead is one full of hopes and dreams, along with the desire to improve and win as much as possible. But January also brings the transfer window, which will remain open until the 31st. The Rossoneri will certainly remain vigilant and alert in all aspects.
Coach Pioli's First Team will return to their league campaign, rounding off the first set of fixtures and getting underway with the second. They have four Serie A matches scheduled along with their game in the Coppa Italia round of 16. Their next league game comes on Monday 6 January, when they'll play Sampdoria at San Siro with a 15:00 CET kick-off. The Rossoneri will then face Cagliari away at the Sardegna Arena at 15:00 CET on Saturday 11. It'll then be time to return to San Siro: a game against Udinese at 12:30 CET on Sunday 19 awaits. After this, the Diavolo will travel to the Stadio Rigamonti to face Brescia at 20:45 CET on Friday 24. Finally, AC Milan will play SPAL at home in the Coppa Italia round of 16 on Wednesday 15, kick-off scheduled for 18:00 CET at San Siro.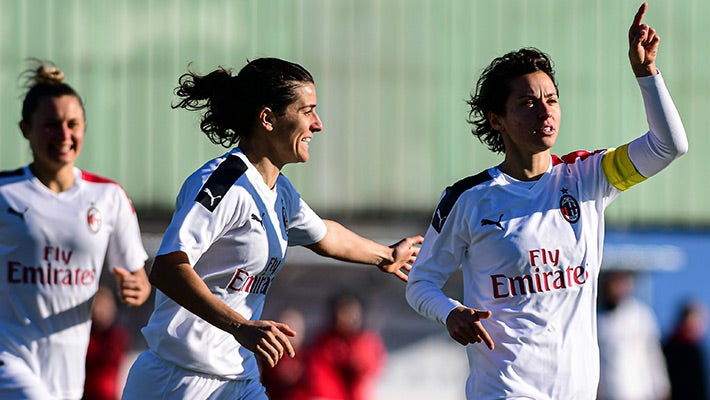 Coach Ganz's women's side also have a January full of fixtures, their first two games at the Stadio Brianteo in Monza as they host Empoli Ladies on Sunday 12 at 14:30 CET and Roma on Monday 20 at 12:30 CET. The Rossonere then travel to Bergamo to face Orobica on Saturday 25 at 15:00 CET, rounding off their month with a home game against Pink Bari on Wednesday 29 at 12:00 CET.
Coach Giunti's Primavera side had a grand finale to 2019 and the second half of their season looks to be equally as busy with the following fixtures: AC Milan v Pordenone (Saturday 18 at Vismara) and Venezia v AC Milan (Saturday 25) in the league, Fiorentina v AC Milan in the quarter-finals of the TIM Cup (Wednesday 29 at 15:00 CET at the Stadio Bozzi).
Season tickets are now on sale for the second round of fixtures: secure your spot at San Siro to make sure you're right behind the Rossoneri for the second half of the season!