THE STORY OF THE GAME
Following Romagnoli's injury during the warm-up, Coach Pioli started Matteo Gabbia from the first minute. At the start of the game, the guests began strong, scoring after the sixth minute when Barák beat Donnarumma with a close-range finish. The goal shook AC Milan, who one minute later tried to find an equaliser through Saelemaekers from the edge of the area, only for it to be saved by Silvestri. However, in the 19th minute, AC Milan conceded again: Following a free-kick by Dimarco, Calabria saw the ball deflect off him into the back of the net to make the score 0-2 after a right-footed touch by Zaccagni. Pioli's boys, however, found the strength to react and in the 27th minute they closed the gap with an own goal from Magnani leading on from a Saelemaekers cross: 1-2 and it was all to play for at San Siro. Two minutes later, again the Diavolo went on the attack, this time with Hernández who came face to face with Silvestri but saw his shot deflect off the goalkeeper's body.
In the second half, Rebić came on in place of Saelemaekers for AC Milan. In the 64th minute, Rebić exchanged passes with Hernández, who once again found his efforts stopped by Silvestri. A minute passed and a huge opportunity came for the Rossoneri: Kessie was fouled in the penalty area by Lovato. A penalty was awarded. Ibra shot from twelve yards but sent the ball over the crossbar. The Swede continued his influence in the game, striking the post in the 75th minute with a brilliant header. Silvestri's goal seemed impenetrable and the night seemed to be getting away from AC Milan. However, in added time at the end of the second half after Calabria saw his goal disallowed, AC Milan pushed forward at the death and in the 93rd minute secured a well-deserved draw with a close-range headed finish from Ibra who tucked the ball neatly into the corner. The equaliser then saw the match conclude 2-2.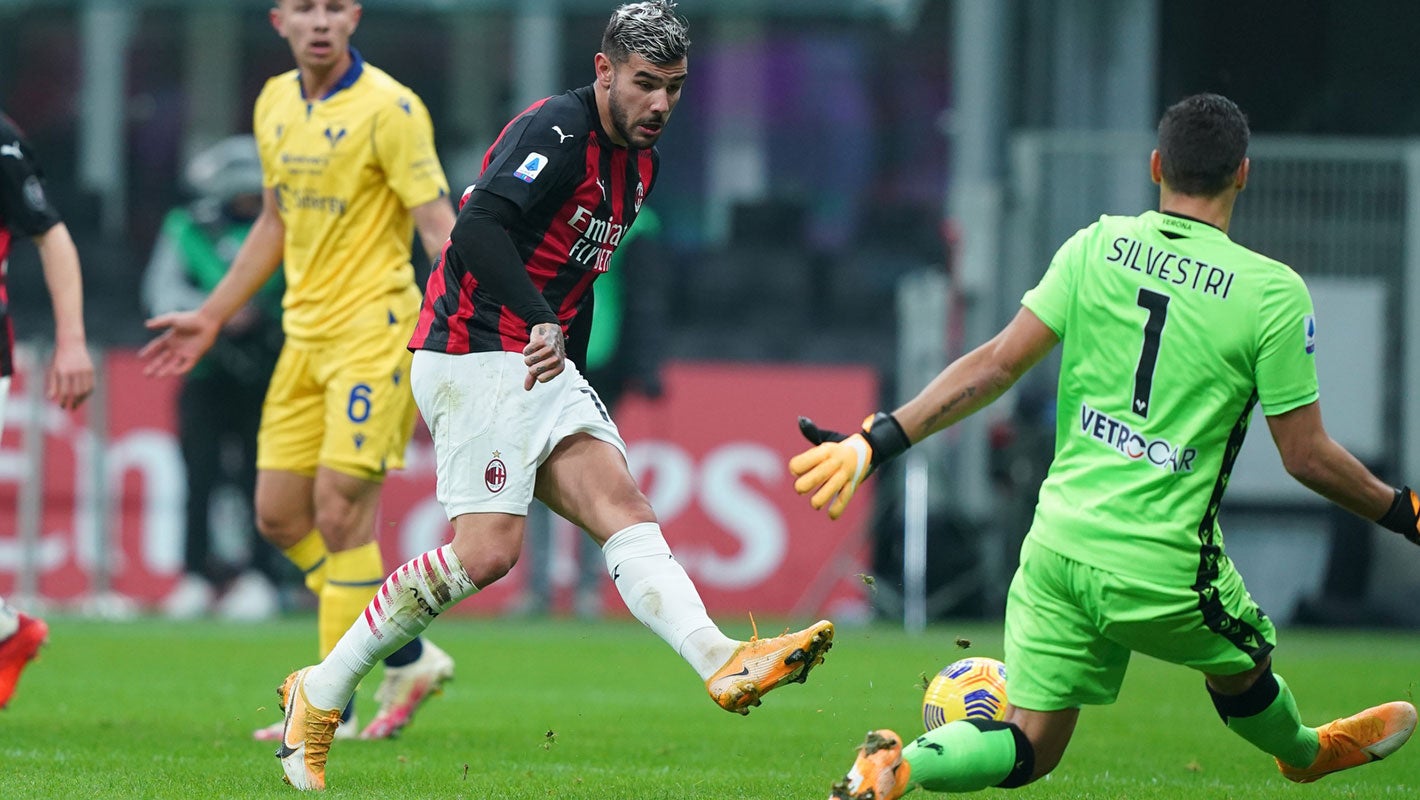 MATCH DETAILS
AC MILAN 2-2 HELLAS VERONA
AC MILAN (4-2-3-1): G. Donnarumma; Calabria, Kjær, Romagnoli, Hernández; Kessie, Bennacer; Saelemaekers (46' Rebić), Çalhanoğlu (87' Hauge), Leão (79' Díaz); Ibrahimović. Subs.: A. Donnarumma, Tătărușanu, Conti, Dalot, Duarte, Gabbia, Castillejo, Krunić, Tonali. Coach: Pioli.
HELLAS VERONA (3-4-2-1): Silvestri; Ceccherini, Lovato, Magnani (73' Cetin); Lazović, Dawidowicz (63' Tameze), Ilić (69' Udogie), Dimarco; Barák, Zaccagni; Kalinić (64' Colley). Subs.: Borghetto, Pandur, Amione, Empereur, Cancellieri, Terracciano, Di Carmine, Salcedo. Coach: Jurić.
Referee: Marco Guida from Torre Annunziata.
Goalscores: 6' Barák (V), 19' o.g. Calabria (V), o.g. 27' Magnani (M), 93' Ibrahimović (M).
Booked: 33' Ceccherini (V), 42' Lovato (V), 54' Bennacer (M), 91' Tameze (V).
Sent-off: .
Notes: Ibrahimović (M) missed a penalty on the 67'.