MATCH REPORT
AC Milan started on the front foot as both Giacinti and Bergamaschi threatened early on. In the 23rd minute, Vitale directed Giacinti's cross towards goal with her left foot but was denied by Baldi's fine stop. Empoli Ladies began to grow into the game, with the outrushing Korenčiová doing really well to thwart Acuti after 29 minutes. A minute later, Hovland came close to converting Tucceri Cimini's corner before Cintotti then fired over a virtually unguarded net. After the restart, the away side quickly took the lead: Prugna got on the end of Hjohlman's miscued effort and fired in from close range. The Rossonere were struggling to create any chances and fell further behind with 82 minutes on the clock as Di Guglielmo finished off another Hjohlman assist. With the match coming to an end, Linda Tucceri Cimini reduced the arrears after being set up by Heroum, but it wasn't to be for Ganz's girls.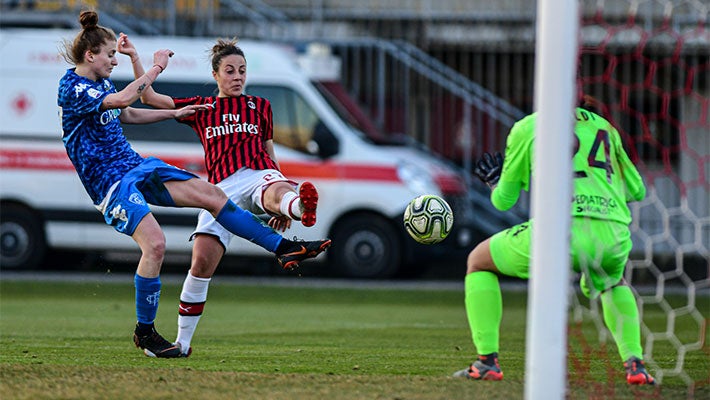 MATCH SUMMARY
AC MILAN 1-2 EMPOLI LADIES
AC Milan (4-3-3): Korenčiová; Vitale, Hovland, Fusetti, Tucceri; Mauri, Carissimi (56' Jane), Čonč (69' Heroum); Bergamaschi, Giacinti, Žigić (62' Longo). Substitutes: Piazza; Bellucci, Capelli, Kulis, Tamborini. Coach: Ganz.
Empoli (4-3-3): Baldi; Prugna, Papaleo (83' Anghileri), Garnier (87' De Rita), Hjohlman, Simonetti, Acuti, Giatras, Di Guglielmo, Cinotti, Varriale. Substitutes: Lugli, Boglioni, De Vecchis, Ness, Morucci, Cotrer. Coach. Pistolesi.
Referee: Lovison from Padua.
Goals: 53' Prugna (E), 82' Di Guglielmo (E), 88' Tucceri Cimini.
Booked: 26' Bergamaschi (M).
Season tickets are still on sale for the Rossonere's home games, secure your spot!