MATCH REPORT
The first important point to note was the starting line-up, as Coach Ganz started both of his latest signings up top: Begič and Thorvaldsdottir. After a fast start from the Rossonere, Roma drew first blood in minute 20: in the play following a free kick, Korenčiová rushed out mistakenly and Thomas slotted home for the opener. The Giallorosse continued pushing and had a second soon after the break: Thomas grabbing a brace as she curled one into the corner in the 49th minute. However, this was the moment that sparked AC Milan into life, Begič's cross crashing into the far post just minutes later giving some inspiration before the comeback really got underway. Thorvaldsdottir cut the deficit in the 70th minute following a corner, before Jane pulled us level in the 78th minute as her cross-cum-shot caught the opposition keeper off guard. It was looking like it might end a draw, but then Thorvaldsdottir stepped up to send Vismara wild with her wonderful winner in the 89th minute: first a miraculous save from Ceasar, then Giacinti hit the crossbar, and finally, off Begič's ball into the box, the girl from Iceland headed home to gift Milan the points.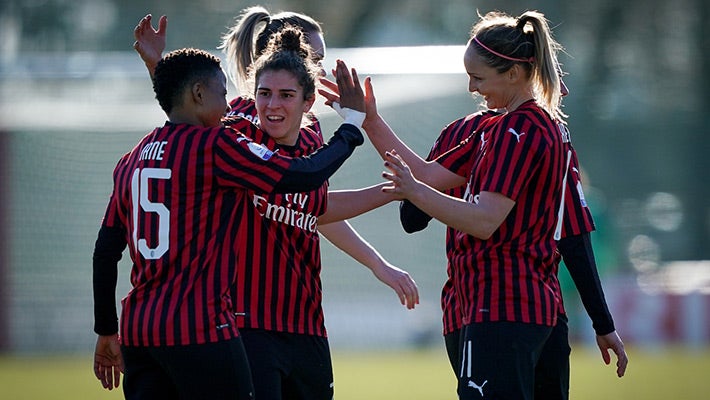 AC MILAN 3-2 ROMA
AC MILAN (4-3-3): Korenčiová; Bergamaschi, Hovland, Fusetti, Tucceri Cimini (91' Žigić); Čonč, Jane, Heroum; Giacinti, Begič (92' Carissimi), Thorvaldsdottir. Substitutes: Piazza; Mendes, Vitale; Capelli, Mauri; Salvatori Rinaldi, Tamborini. Coach: Ganz.
ROMA (4-3-3): Ceasar; Erzen, Swaby (62' Ekroth), Pettenuzzo, Bartoli; Bernauer, Giugliano (15' Hegherberg), Andressa (80' Greggi); Bonfantini, Thomas, Serturini. Substitutes: Pipitone; Ciccotti, Cunsolo; Coluccini, Soffia; Thestrup. Coach: Bavagnoli.
Referee: Turrini from Florence.
Goals: 20' and 49' Thomas (R), 70' and 89' Thorvaldsdottir (M), 78' Jane (M).
Bookings: 57' Hegerberg (R), 94' Giacinti (M).

Season tickets are still on sale for the Rossonere's season: buy yours now!