MATCH REPORT
Coach Ganz made a handful of changes to his starting line-up, especially in defence. The game took a while to get going, the Rossonere dominating possession but struggling to create anything of note. Giacinti tried one from a free kick in the 16th minute, Begić headed one at goal in the 31st minute and Thorvaldsdottir also had a great chance just before half-time; but none of them could find the breakthrough. AC Milan looked livelier in the second half, more chances falling to Carissimi on the volley, Heroum from the edge of the area and Tucceri Cimini as she almost scored directly from a corner. Žigić hit the post in the 71st minute and Tucceri Cimini again came close with her cross-cum-shot in minute 86, but then the breakthrough finally arrived. Captain Giacinti came up with a great bit of play in the 88th minute, but with her effort saved, it was Čonč there to grab the ball and slot home for the winner at full-time.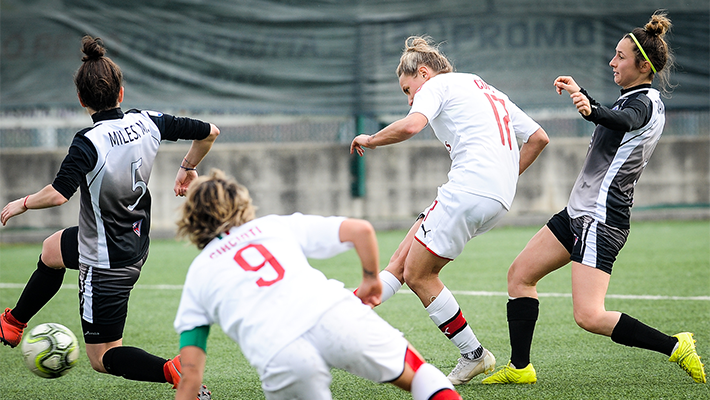 OROBICA 0-1 AC MILAN
OROBICA (3-5-2): Lonni; Visani, Marlot (48' M. Milesi), Zanoli; Magni, C. Merli, Vavassori, Foti (71' L. Merli), Hilaj; Muya, Kalasic (65' Cortesi). Subs.: Pilato; Brasi, G. Milesi; Campana, Salvi; Mandelli. Coach: Marini.
MILAN (4-3-3): Korenčiová; Bergamaschi, Vitale, Fusetti, Heroum; Čonč, Jane, Carissimi (63' Tucceri Cimini); Giacinti, Begić (46' Žigić) (77' Tamborini), Thorvaldsdottir. Subs.: Piazza; Žigić; Bellucci, Capelli, Mauri; Longo, Salvatori Rinaldi. Coach: Ganz.
Referee: Milone from Taurianova.
Goal: 88' Čonč (M).

The official PUMA match kits for the 2019/20 season are available in the AC Milan Online Store!