MATCH REPORT
Ready, set, and they're off! It only took Milan 46 seconds to break the deadlock as Thorvaldsdottir squared it for Giacinti to slot home. Marrone came close to an own goal in the 5th minute after her header hit the post, but Pink Bari then drew level after 17 minutes of play as Torres tucked Zammit's cross under the crossbar to make the scores 1-1. The Rossonere pushed on, seeing a Vitale goal ruled out for offside before retaking the lead through Giacinti, our skipper scoring her second with a lovely shot on the turn in the 50th minute. Heroum struck another for Milan in the 53rd minute, and then Jane finished off a blistering six minutes for Milan with another fired into the top corner from distance. Carp managed to cut the deficit following a corner in the 77th minute, but this only lasted a minute before Thorvaldsdottir netted another for the Rossonere. Valentina completed her hat-trick in the 82nd minute as she lashed in a rebound from close range, then Manno grabbed a consolation goal for the away side two minutes before full-time.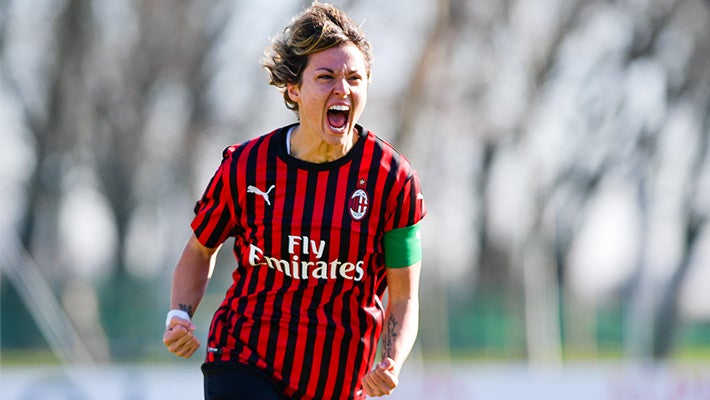 AC MILAN 6-3 PINK BARI
AC MILAN (4-3-2-1): Piazza; Heroum (71' Tamborini), Vitale, Fusetti, Tucceri Cimini; Čonč (77' Carissimi), Jane (83' Capelli), Mauri; Bergamaschi, Giacinti; Thorvaldsdottir. Subs.: Korenciova; Hovland, Žigić; Begić, Longo, Salvatori Rinaldi. Coach: Ganz.
PINK BARI (4-4-2): Myllyoja; Capitanelli (70' Manno), Di Bari (81' Soro), Marrone, Culver; Ketis, Zammit, Torres, Novellino; Honkanen, Carp. Subs.: Balbi; Larenza, Mascia; Buonamassa; Ceci. Coach: Caricola.
Referee: Rispoli from Locri.
Goals: 1', 50' and 82' Giacinti (M), 17' Torres (PB), 53' Heroum (M), 56' Jane (M), 77' Carp (PB), 78' Thorvaldsdottir (M), 88' Manno (PB).
Bookings: 21' Novellino (PB), 33' Di Bari (PB), 41' Capitanelli (PB).
The official PUMA match kits for the 2019/20 season are available in the AC Milan Online Store!