MATCH REPORT
Lively from the off. The first chance of the game fell to the Nerazzurre in the 8th minute, Korenciova making two big saves to keep out Marinelli and then Tarenzi. The Rossonere then grew into the game, Heroum heading just over in the 11th minute and Begić somehow missing an open net in the 22nd. More chances came however, with Tucceri Cimini's free kick only stopped by a deflection off Hovland in the 33rd minute and Giacinti's shot flying just wide in the 37th. But it was the away side who found the breakthrough six minutes into the second half, Bartanova's cross somehow ending up in the net after Tarenzi's dummy fooled Korenciova. AC Milan refused to lie down, pushing back with chances of their own through Heroum's shot and Salvatori Rinaldi's header, and after 69 minutes the well-deserved equaliser arrived, Thorvaldsdottir drilling her left-footed effort into the corner. Giacinti had the chance to win it with a penalty after Merlo's handball in the 72nd minute, the Nerazzurre defender sent off with a second yellow, but she fired her effort wide from twelve yards. However, our Rossonere talisman certainly redeemed herself in the 78th minute, touching it down in the box and firing her shot across Aprile to make it 2-1 at full-time.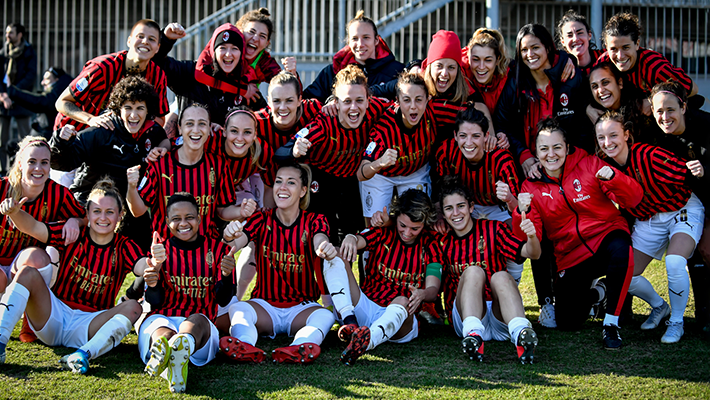 AC MILAN 2-1 INTER
AC MILAN (4-3-3): Korenčiová; Bergamaschi (82' Vitale), Hovland, Fusetti, Tucceri Cimini; Čonč, Jane, Heroum (61' Mauri); Giacinti, Thorvaldsdottir, Begić (55' Salvatori Rinaldi). Subs.: Piazza; Capelli, Carissimi, Kuliš; Longo, Tamborini. Coach: Ganz.
INTER (4-4-2): Aprile; Merlo, D'Adda, Auvinen, Bartonova; Marinelli, Brustia (59' Rincon), Alborghetti, Pandini; Tarenzi (86' Van Kerkhoven), Baresi (76' Debever). Subs.: Marchitelli; Capucci, Fracaros; Pisano, Santi; Goldoni. Coach: Sorbi.
Referee: Sfira from Pordenone.
Goals: 51' Bartonova (I), 69' Thorvaldsdottir (M), 78' Giacinti (M).
Bookings: 32' Alborghetti (I), 61' Bartonova (I), 89' Marinelli (I).
Red card: 71' Merlo (I) for a second yellow.

The official PUMA match kits for the 2019/20 season are available in the AC Milan Online Store!