MATCH REPORT
The game struggled to get going before Tucceri Cimini had a chance which grazed the post in the seventh minute. Then in the 17th minute Polli responded by shooting just wide. The Rossonere grew into the game with Giacinti looking dangerous in the 22nd minute and in the 25th with a header saved by Capelletti. At the start of the second half Tucceri Cimini stepped up to the plate: in the 54th minute her shot-come-cross hit the far post, then following a corner that broke down, her cross got the better of Capelletti in the 55th minute to take the lead. Then on the hour mark Heroum had a go on the turn but her shot missed the target. After deadly counterattack by AC Milan in the 61st minute, the lead was doubled by Valentina Giacinti: first she won the penalty after Veritti's foul in the box, then she stepped up to slot the spot kick into the corner. In the final stages, the Rossonere were unleashed: Thorvaldsdottir scored with a deft touch in the 77th minute and Tamborini rounded off the scoring in the 84th minute after spinning and firing past Capelletti.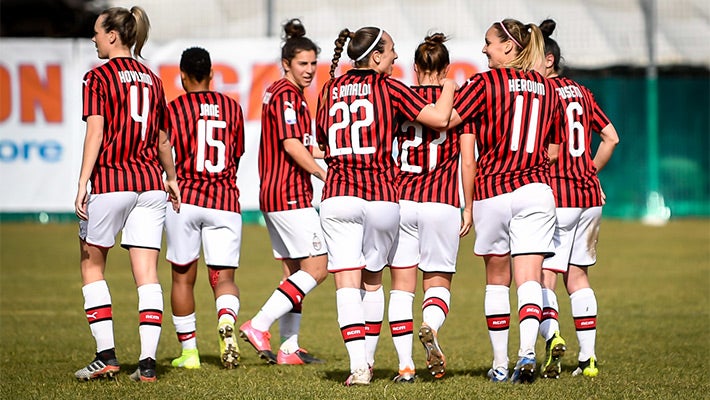 TAVAGNACCO 0-4 AC MILAN
TAVAGNACCO (4-3-1-2): Capelletti; Santamaki, Veritti, Kunisawa, Kato; Chandarana, Brignoli (68' Cagnina), Babnik; Kongouli (75' Milan); Benedetti (68' Puglisi), Polli. Subs.: Nicola; Donda, Gardel, Pozzecco; Blasoni, Tibaut. Coach: Lugnan.
MILAN (4-3-3): Korenčiová; Bergamaschi, Hovland, Fusetti, Tucceri Cimini; Čonč, Jane, Heroum (75' Carissimi); Salvatori Rinaldi (70' Lady Andrade), Thorvaldsdottir, Giacinti (82' Tamborini). Subs: Piazza; Vitale, Žigić; Capelli; Begić, Longo. Coach: Ganz.
Referee: Ferrieri Caputi from Livorno.
Goals: 55' Tucceri Cimini (M), 61' pen. Giacinti (M), 77' Thorvaldsdottir (M), 84' Tamborini (M).
The official PUMA match kits for the 2019/20 season are available in the AC Milan Online Store!