The big winners of the weekend were the Primavera, who beat SPAL 3-1 and recorded their 14th consecutive win in the league. In doing so, they achieved promotion to the Primavera 1 division with four games to spare. It was another dominant display from the team, who overcame the second-place side with relative ease thanks in most part to an excellent first half. The Under-19s have thus achieved what they set out to do following a brilliant season where they've developed as a team.
It was also a successful weekend for the Club's youth sector in general, with the U12s, U11s, U10s and U10 women's team all winning by large margins. However, the U13s suffered a surprise defeat at home to Albinoleffe. The remaining fixtures this weekend didn't take place, with the Government suspending all sporting events in Lombardy and Veneto to confront and contain the coronavirus outbreak in these regions.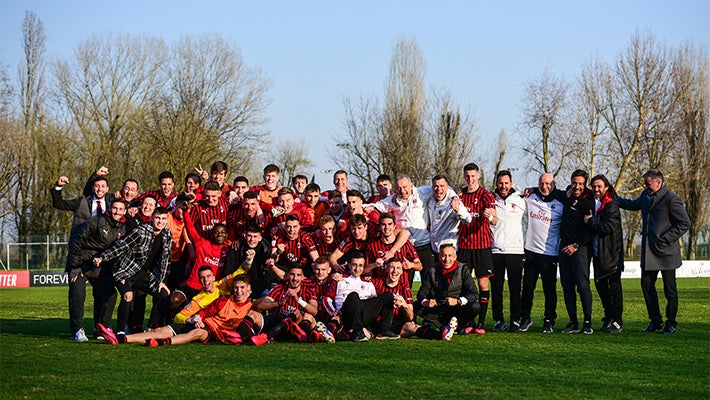 ALL THE RESULTS:
PRIMAVERA: Matchday 7 of the return set of fixtures, AC Milan 3-1 SPAL (19' Colombo, 22' Olzer, 47' Sala)
U13: Matchday 5 of the return set of fixtures, AC Milan 0-2 Albinoleffe
U12: Matchday 3, Rhodense 0-7 AC Milan (4 Camarda, Natali, Cullotta, Borsani)
U11: Matchday 3, AC Milan 13-0 Iris (4 Colombo, 3 Mastroianni, 2 Stea, Rocca, Avogadro, Bompan, Mazzucchelli)
U10: Matchday 3, AC Milan 7-4 Pro Sesto (3 Maracu, Sorrentino, Seye, Esposti, Romano)
WOMEN'S U10: Matchday 3, Real Trezzano 4-7 AC Milan (3 Spagliardi, 2 Galluzzi, Parolo, Conte)
The official PUMA match kits for the 2019/20 season are available in the AC Milan Online Store!